Consider this case where a ball falls and lands on a bench.
Suppose that there was a barrier in front of the bench, like the dotted line.
Because the bench protrudes from the barrier, you could easily see where the ball will land.
But of course you can only see this if you know that barriers stop solid balls.
Spelke used this observation to provide evidence that 4-month-old infants can track objects' causal interactions.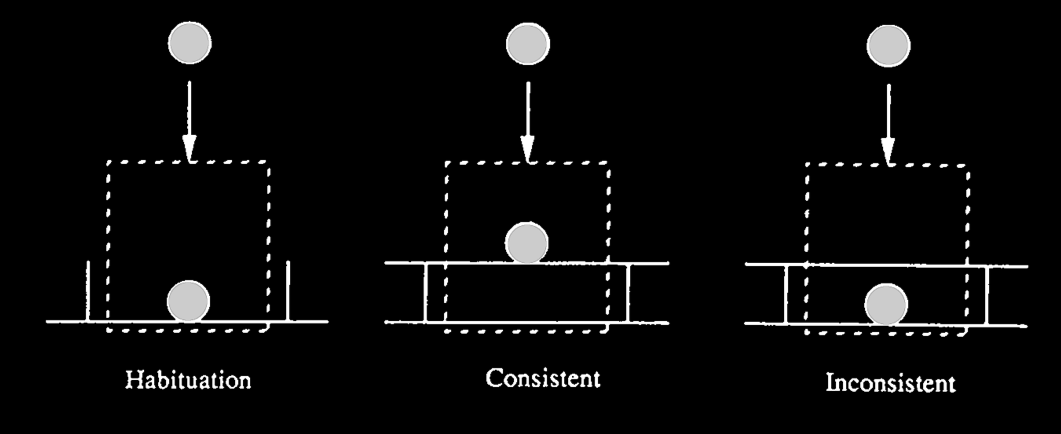 Spelke et al 1992, figure 2
Infants were habituated to a display in which a ball fell behind a screen, the screen came forwards and the ball was revealed to be on the ground, just where you'd expect it to be.
After habituation infants were shown one of two displays.
Infants in the 'consistent group' were shown this.
Whereas infants in the 'inconsistent group' were shown this.
What should we predict?
If infants were only paying attention to the shapes and ignoring properties like solid, they should have dishabituated more to the consistent than to the inconsistent stimlus.
After all, that stimlus is more different from the habituation stimulus in terms of the surfaces.
But if infants were are to track some simple causal interactions, then they might dishabituate to the 'inconsistent' stimulus more than to the 'consistent' stimulus because that one involves an apparent violation of a physical laws.